Description and specification
The PU-W type container is a container for rubble and loose materials with four ears intended for attaching slings.  The container is adapted for transport by lifting equipment and forklift.  The container is equipped with two additional ears in the back of the structure. This allows the container to be emptied more easily after attaching the sling hooks.
Norm: The product is made in accordance with Directive 2006/42/W, marked with a nameplate and marked with the CE symbol.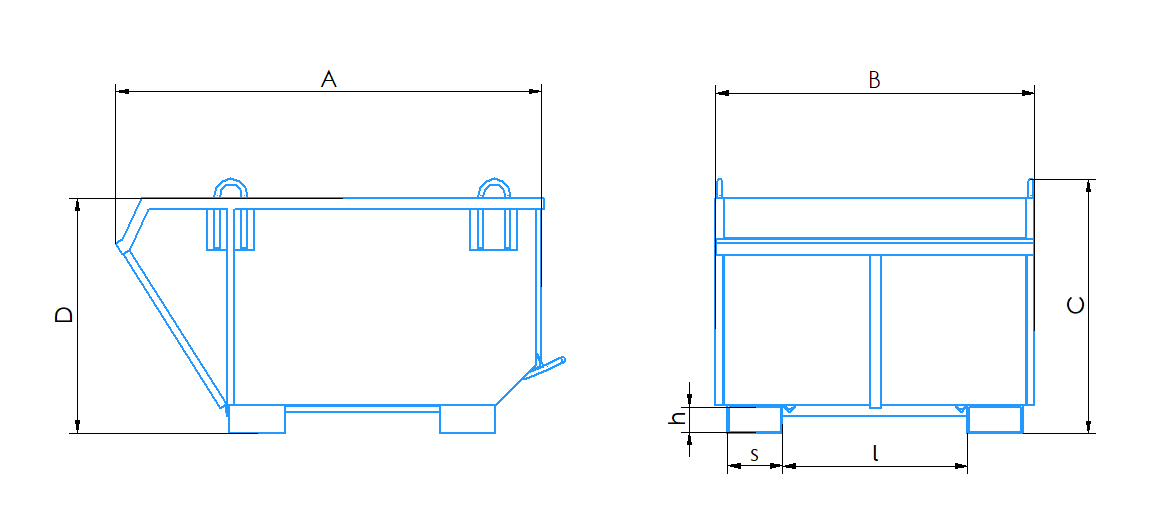 | | | | | | | | | | | |
| --- | --- | --- | --- | --- | --- | --- | --- | --- | --- | --- |
| Type | Capacity, m3 | A, mm | B, mm | C, mm | D, mm | s, mm | h, mm | l, mm | Weight, kg | Load, kg |
| PU/W-0.75 | 0.75 | 1270 | 1150 | 760 | 660 | 200 | 80 | 700 | 130 | 2000 |
| PU/W-1.0 | 1.00 | 1500 | 1150 | 850 | 750 | 200 | 80 | 700 | 150 | 2000 |
| PU/W-1.2 | 1.20 | 1670 | 1150 | 900 | 800 | 200 | 80 | 700 | 170 | 2200 |
| PU/W-1.5 | 1.50 | 1770 | 1150 | 1000 | 900 | 200 | 80 | 700 | 190 | 2500 |
| PU/W-2.0 | 2.00 | 1770 | 1550 | 1000 | 900 | 200 | 80 | 1000 | 210 | 3000 |